If you've never visited
How Can I Recycle This?
, a web site produced in the UK focusing on ideas for recycling and reusing virtually any material, take a moment to check it out. If you have a material that you want to find a use for, you can
send the suggestion to them
to discuss and open up for comments from other readers. My one complaint about this inspirational site is that you can't browse by category anywhere except on the
archives
page, and even there, the topics listed don't seem to include all of the categories into which posts are placed. That's a personal thing--I like to see the categories that are available because I might not think to search by a particular phrase.
There have been a few interesting art projects discussed on How Can I Recycle This? recently, that I thought were worth pointing out. The first is
HA Schult's Trash People
. Schult installs an army of 1000 humanoid figures composed of garbage in various locations around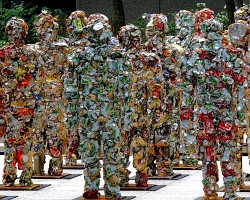 the world in a stunning display that connects us to our waste and shows us that we are what we throw away. It's thought provoking and potential nightmare fodder for those with overactive imaginations (think of that army coming to life and trying to throw
you
away). The scale of these displays is amazing--follow the link to Schult's site from the How Can I Recycle This? blog and check out the photos. When you see masses of trash people lined up on the Great Wall of China or in front of Egyptian pyramids, it's hard to not get the message that we waste too much in our society and to begin to understand that wastefulness has an effect not only on resources, but on people as well. (Photo featured here is an image shown on How Can I Recycle This? and attributed to
dbking on Flickr
)
Just last week, Ho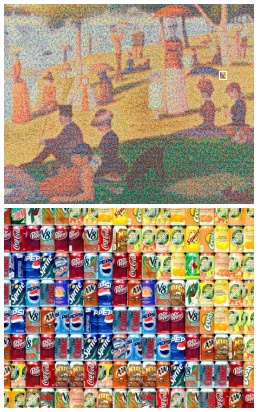 w Can I Recycle This?
featured the artwork of Chris Jordan
, in particular an exhibition called
Running the Numbers
. This in another great visual aid to convey the scale of our wastefulness (along with other non-environmental social issues, as not every work in this exhibition deals with trash). Jordan presents striking images along with statistics that shock the system.
Cans Seurat
, his recreation of a famous Seurat painting using aluminum cans, for example, lets the viewer know that it was composed of 106,000 cans--"the number used in the U.S. every thirty seconds." I had been aware of Jordan before, having come across his web site for a previous work called
Intolerable Beauty
a few years back (check it and his other exhibitions out at
http://www.chrisjordan.com/
). If you want to convey the scale of waste in the U.S. to someone, the photos in
Intolerable Beauty
will certainly help. If you check out
Running the Numbers
on Jordan's web site, you can also view other visual aids related to the use of plastic cups on airlines, plastic water bottles, cell phones, fuel (in the form of jet trails and SUVs), paper bags, paper cups, plastic bags, office paper, and batteries, among other items. (Photo at left is
Cans Seurat
as shown on How Can I Recycle This?)
If all of this hasn't made you sick yet, go to
National Geographic's Human Footprint
for additional depressing illustrations of our consumption. The Trash People are mentioned on that site too.